CLASSIC Orthodox Package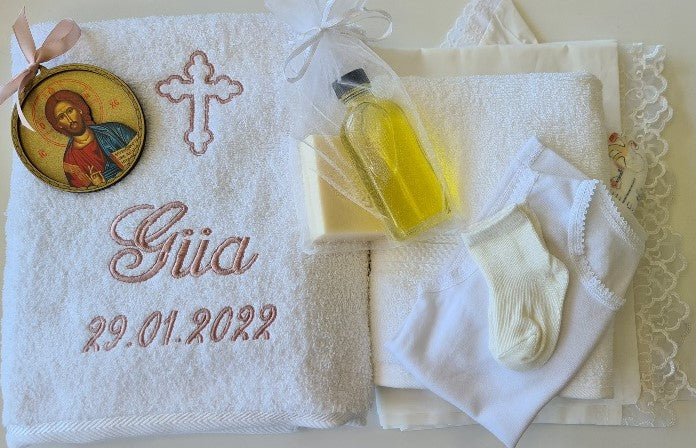 Package includes -
Bath TOWEL with choice of NAME only or NAME/CROSS/DATE
Hand TOWEL - plain
Cotton oil sheet / cap set
Oil bottle / soap set
Singlet
Nappy (disposable)
Socks
Icon
Please advise TOWEL details and SINGLET / SOCK sizing in Notes when checking out.

Upon receiving your order, we will email you regarding all details, including TOWEL FONT / COLOUR selections. 
Need a BOX or CANDLE to go along with your package? You can see some of our box range at Personalised Keepsake Boxes and some of our candle range at Orthodox Christening Candles, or you can contact us for details on our complete range of board, acrylic, timber keepsake boxes & candles.
Package to be ready within 7-10 working days of order being placed. If your order is urgent, please contact us on either (02) 9683 5459 or info@lilysattic.com.au to discuss shorter lead times.
Pick-up from our North Parramatta store may be the quicker option if applicable.